25 Jan 2019
To ensure that your employees' stay on the slopes remains a pleasure and that it brings back only good memories at work, do not hesitate to raise their awareness thanks to our advice.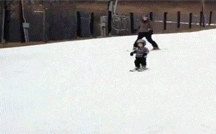 Good physical preparation
– Three weeks before departure, it is advisable to do stretching to prevent muscle injuries and promote recovery. Walking up the stairs is also a good way to prepare physically.
– People who do not practice any sports during the year can also improve their physical condition by cycling or jogging during the last month before leaving.
– On the first day, don't forget to warm up and stop at the first sign of fatigue. Choosing the right slopes is the best way to test your shape and avoid an accident.
The choice of equipment
– Good ski equipment is a guarantee of safety. The proper adjustment of the ski binding by a professional is the first essential condition to prevent any accident. Other important advice: choose suitable shoes, the foot being comfortable, the toes can move, without the heel lifting off.
– Snowboarding often leads to wrist injuries. It is therefore strongly recommended to use wrist guards. As a preventive measure, it is also useful to learn to fall with your fists closed in order to avoid forced wrist flexion.
– When skiing or snowboarding, wearing a helmet is important, especially for children, to prevent head injuries.
Be careful on the slopes!
– Before putting on the skis, we will first observe the weather and choose slopes adapted to your level. Relatives will be informed in case of departure alone.
– To avoid collisions, the skier must control and modulate his speed according to different factors: physical condition, technical level, snow and slope quality, traffic density, visibility… Attention, it is the skier located upstream who must adapt his speed and trajectory. The downstream skier is therefore always given priority!
– Safety also requires parking on the side of the slopes and respecting the markings. Never go off-piste when the signs indicate an avalanche risk.
Altitude and health: what you need to know
– In case of medical treatment, it is better to consult your doctor before leaving. Anyone with heart disease or respiratory failure must stay at a low altitude station.
– To protect yourself from the cold, cover yourself with warm, waterproof clothing, especially gloves, which are also useful in case of falls to prevent injuries. The best protection against the cold is to layer several layers of clothing.
– To avoid the dangers of the sun, glasses adapted to the strong reverberation on the snow should be worn. A sunscreen with a high protection factor should also be applied, even in grey weather, and repeated every two hours.
– As far as hydration is concerned, it is recommended to drink at least one litre (water, fruit juice, flavoured milk drinks, etc.) per day of skiing outside meals. Energy intake includes eating cereal bars or fruit.